Bucknell in Northern Ireland 2005
Conflict and Identity
A Short-Term Study-Abroad Program
Program Dates: May 22 - June 12, 2005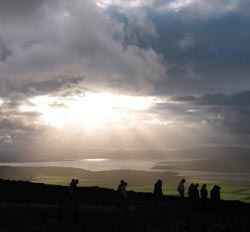 Bucknell in Northern Ireland students heading away from the Grianan of Aileach, 2003
This is a short-term (3 weeks) study-abroad program for students interested in the psychological and sociological causes, characteristics, and consequences of the sectarian conflict ("the Troubles") in Northern Ireland. This year there will be a special emphasis on intergration versus segregation in education.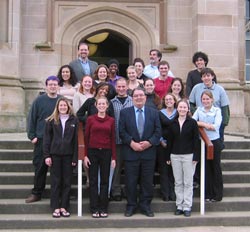 Bucknell in Northern Ireland 2003 with Mr. John Hume (Nobel Laureate), Magee College, Derry.
This program is part of an ongoing, collaborative relationship between Bucknell and the University of Ulster, involving both educational opportunities through Magee College and research through the Center for Voluntary Action Studies. We also are part of a consortium for study in Northern Ireland that includes Swarthmore Rutgers and the West Virginia University School of Social Work.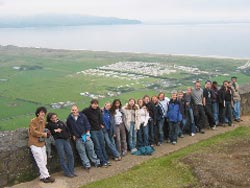 Bucknell in Northern Ireland overlooking Magilligan Point, 2003
The program has been designed to give students first-hand experience with the people of Northern Ireland, with community-based efforts at resolving the conflict on a local level, and with the culture, history, geography, and politics of the country.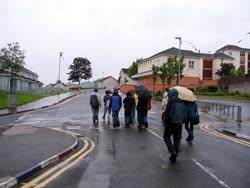 BUNI '03 walks around the Fountain, the only Loyalist area still on the City Side of Derry.