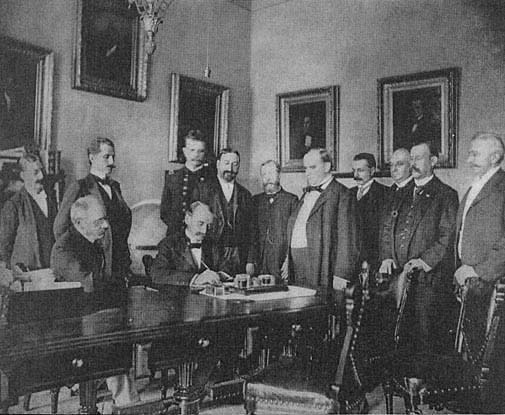 Ambassador Cambon watches as Secretary Day signs the Peace Protocol.
Standing, left to right, are: Montgomery, Thiébaut, Corbin, Moore,
Adee, the President, Cortelyou, Pruden, Cridler, and Loeffler. The
photograph was posted the week after the signing took place.
The Spanish American War ended on August 12, 1899, when Spain and the United States signed a peace protocol. Commodore Dewey and General Wesley Merritt were uninformed of this treaty, and attacked the Spanish in Manila on August 13, 1899. They forced the Spanish to surrender after the peace protocol had already been signed.
---
Leech, Margaret. In the Days of McKinley.
New York: Harper and Brothers, 1959, pg 438
call number: E 711.6.L48 1959
PBS Online.
"Crucible of Empire: April 25, 1989: Congress Declares War " available from
http://www.pbs.org/crucible/tl12.html;
Internet; accessed 15 October 2004.