Andrew Carnegie
(1835-1919)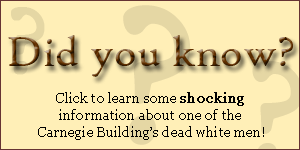 Andrew Carnegie was an industrialist and philanthropist. Founder of the Carnegie Steel Company, which launched the steel industry in Pittsburgh, he is most well known for his contributions to intellectual causes and efforts towards establishing international standards for peace.
Andrew Carnegie came to America with his family in 1848 from his native Scotland. He was born in Dunfermline on November 25, 1835. Since Carnegie's father was a weaver, he obtained a job as a bobbin boy in Allegheny, Pennsylvania, where the family settled. He moved through the ranks quickly at Western Union and the Pennsylvania Railroad, but eventually quit in 1865 to start his own business, Carnegie Steel. Upon his retirement, Carnegie sold his company to J.P. Morgan for $480 million
Carnegie devoted the remainder of his life to charitable and philanthropic causes. In his 1889 book, The Gospel of Wealth, Carnegie urged other wealthy people to be philanthropic to their community. He posed this charity as a sort of moral duty, in which rich persons should only keep what is necessary for their families and establish a trust for the benefit of the community with the remaining money. Carnegie followed his own plan and disposed of most of his income through various trusts and donations. Altogether he founded seven different philanthropic organizations in the U.S., including the Carnegie Corporation of New York.
Carnegie is perhaps most remembered for his Library Program. Convinced that anyone could advance in life if provided access to knowledge, he began a plan to increase the numbers of public libraries in 1881. Altogether, he and the Corporation spent over $56 million to build 2,509 libraries in the English-speaking world. Other programs in the Corporation's early history include those for adult education and education in the fine arts.
Although the Library Program ended in 1917, Andrew Carnegie's charge that the Corporation dedicate itself to the "advancement and diffusion of knowledge and understanding" remains at the center of its educational programs today. The Corporation also continues to support programs dedicated to international peace and security.
During his life, Carnegie gave away over $350 million. He died in Lenox, Massachusetts on August 11, 1919.
Carnegie Corporation of New York .
"Carnegie Corporation - About ," available from
http://www.carnegie.org/sub/about/biography.html;
Internet; accessed 1 December 2004.