Alfred
Aristotle
Charlemagne
Dante
Franklin
Hegel
Kant
Laplace
Lincoln
McKinley
Milton
Newton
Plato
Socrates
Virgil
Washington
Georg Wilhelm Friedrich Hegel
(1770-1831)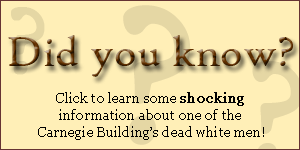 Hegel was born in 1770 in Stuttgart, Germany. He spent 1788-1793 as a theology student in nearby Tübingen, where he developed close friendships with students there, including the great romantic poet Friedrich Hölderlin (1770-1843) and the philosopher Friedrich W.J. von Schelling (1775-1854). Until around 1800, Hegel was devoted to developing ideas on religious and social themes. He apparently saw himself as an educational reformer, hoping to follow in the footsteps of Lessing and Schiller, both important figures in the German Enlightenment.
Around 1800, however, like his school friends Hölderlin and Schelling, his ideas turned to issues in the "critical" philosophy of Immanuel Kant (1724-1804). In 1801 Hegel moved to the University of Jena, by then a major center in the Romantic Movement and in Kantian philosophy. In 1801 he published his first philosophical work, The Difference between Fichte's and Schelling's System of Philosophy, which labeled him as a follower of Schelling. Subsequent works, however, would establish Hegel as a genius in his own right.
In 1806 Hegel completed his first major work, the Phenomenology of Spirit, which showed a departure from his early Schellingian work. His university career interrupted by the Napoleonic Wars, Hegel worked for a newspaper in Bamberg and later as the headmaster and philosophy teacher at a Gymnasium in Nuremburg, during which time he married and had children and also published his Science of Logic. In 1816 he was appointed to a chair in philosophy at the University of Heidelberg, and in 1818 took the prestigious chair of philosophy at the University of Berlin. This was the most prestigious position in the German philosophical world.
In 1821, in Berlin, Hegel published his major work in political philosophy, Elements of the Philosophy of Right, which was based on lectures given at Heidelberg and on his section of the Philosophy of Spirit dealing with "objective spirit." During the following ten years up to his death in 1831, Hegel enjoyed great celebrity at Berlin.
Hegel had been a supporter of progressive and non-revolutionary politics, but his followers split into two factions, "left-wing" and "right-wing." Out of the left came Karl Marx, who had been a student of Hegels at Berlin and a member of the philosophical circle known as the "Young Hegelians." Marx, however, ultimately rejected Hegel's "idealist" approach approach to philosophy in favor of a "materialistic" or practical view. It is this redefinition of Hegelian philosophy that formed the basis for the Marxist approach to history based on dialectical materialism.
Subsequent criticisms of Hegelian philosophy, including that of his former friend Schelling, influenced later movements, including existentialism and precursors to the post-modern movement.
Stanford Encyclopedia of Philosophy.
"Georg Wilhelm Friedrich Hegel," available from
http://plato.stanford.edu/entries/hegel/;
Internet; accessed 6 December 2004.
Quotes
"Nothing great in the world has ever been accomplished without passion. "
"But even as we contemplate history as this slaughter bench on which the happiness of peoples, the wisdom of states, and the virtue of individuals have been sacrificed, our thoughts cannot avoid the question, for whom, for what final aim. these monstrous sacrifices have been made. "
- from Hegel's Philosophy of History
Links