Alfred
Aristotle
Charlemagne
Dante
Franklin
Hegel
Kant
Laplace
Lincoln
McKinley
Milton
Newton
Plato
Socrates
Virgil
Washington
Benjamin Franklin
(1706-1790)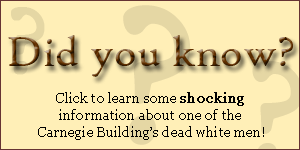 Benjamin Franklin embodies the concept of a Renaissance man, succeeding as a printer, author, diplomat, philosopher, politician, and scientist. He started off in humble beginnings, however. He was born in Boston in 1706, the 17 th child and 10 th son of a soap and candlemaker. He had only two years of elementary education and began apprenticing with his father at the age of ten. Not liking the work, Franklin then became an apprentice to his brother James at the age of thirteen. His brother had just returned from England with a printing press. Franklin learned the printing trade and furthered his education, even contributing fourteen essays to his brother's paper, the New England Courant.
Because of disagreements with his brother, Franklin moved to Philadelphia. He worked for various printing firms and in 1729 bought The Pennsylvania Gazette. His witty style turned the dull newspaper into an entertaining and informative publication. His most famous work was the annual Poor Richard's Almanack, which gained a wide audience throughout the colonies. Franklin also entered into a common-law marriage with Deborah Read in 1730, with whom he later had a son and a daughter. He was recognized for his civic works, scientific experiments and interests, and a political career.
From 1748 to 1762, Franklin traveled from Philadelphia to England, representing the interests of Pennsylvania in Parliament. In 1766 he was interrogated before the House of Commons regarding the effects of the Stamp Act upon the colonies; his testimony was largely influential in getting the act repealed. Soon, however, new plans for taxing the colonies were introduced in Parliament, and Franklin was increasingly divided between his devotion to his native land and his loyalty as a subject of George III of Great Britain. Finally, in 1775, Franklin sorrowfully acknowledged the inevitability of war and returned to America after an absence of 11 years. He reached Philadelphia on May 5, 1775, to find that the opening engagements of the Revolution—the battles of Lexington and Concord—had already been fought. He was chosen a member of the Second Continental Congress, serving on ten of its committees.
After helping to draft the Declaration of Independence, Franklin traveled to France seeking economic and financial assistance for the war ahead. This diplomatic career would occupy him for most of the rest of his life. He helped negotiate treaties over commerce and alliances, helping the colonists win the American Revolution. He was also one of three men who negotiated the Treaty of Paris in 1783 that ended the Revolution.
In 1785 Franklin returned to Philadelphia, where he helped to draft the U.S. Constitution. He also committed himself to one last philanthropic cause in the last years of his life: the abolition of slavery. His last public act was signing a petition to Congress recommending the abolition of slavery. On April 17, 1790 Franklin died in his home at the age of 84. Although he succeeded in many aspects of his life, his diplomatic abilities will be remembered as his largest contribution to the construction of the modern United States of America.
National Archives and Records Administration.
"The Founding Fathers: Pennsylvania," available from
http://www.archives.gov/national-archives-
experience/charters/constitution_founding_fathers_pennsylvania.html#Franklin;
Internet; accessed 3 December 2004.

Microsoft® Encarta® Online Encyclopedia 2005
"Franklin, Benjamin," available from
http://encarta.msn.com/encyclopedia_761576775_2/Benjamin_Franklin.html;
Internet; accessed 27 September 2005
Quotes
"The poor have little,
Beggars none;
The rich too much
Enough not one. "

"Our new Constitution is now established, and has an appearance that promises permanency; but in the world nothing can be said to be certain except death and taxes. "

- Letter to Jean-Baptiste Leroy [ Nov. 13, 1789]
Links