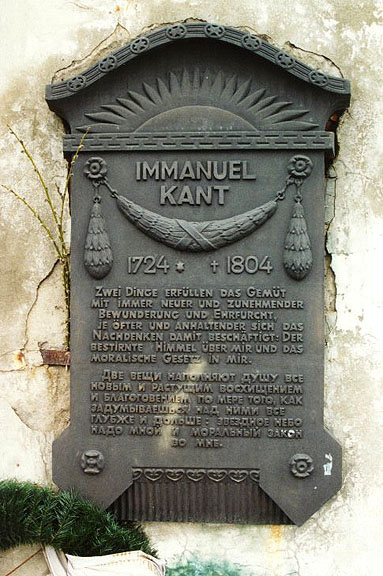 Kant's tomb in Kaliningrad
After the Soviets conquered East Prussia in 1945, Kant's tomb outside the cathedral of Königsberg (now Kaliningrad) was one of the few artifacts preserved. Near the tomb is the following inscription in German and Russian, taken from Kant's Critique of Practical Reason [5:161-2]:
Two things fill the mind with ever new and increasing admiration and awe, the more often and perseveringly my thinking engages itself with them: the starry heavens above me and the moral law within me.
---
Wikipedia, the free encyclopedia.
"Immanuel Kant ," available from
http://en.wikipedia.org/wiki/Kant;
Internet; accessed 8 November 2005.