Alfred
Aristotle
Charlemagne
Dante
Franklin
Hegel
Kant
Laplace
Lincoln
McKinley
Milton
Newton
Plato
Socrates
Virgil
Washington
"Mahatma" Gandhi
Mohandas K. Gandhi forged himself into an inspiration for repressed peoples around the world, receiving the name "Mahatma," or Great Soul, for his humanitarian vision. Gandhi was born on October 2, 1869, into one of the main provinces of British India to a family steeped in local politics. The high local status of Gandhi's father and grandfather led the young boy to grow up with the image of Indians ruling their own states, not being ruled over.
Gandhi was married in 1882, at the age of 13, to a girl his own age and caste - Kasturba Makanji, who remained his wife until his death. Although viewed as a symbol of traditional Indian values and beliefs, Gandhi struggled to find elements of Hinduism which complemented his beliefs, shaping together an eclectic combination emphasizing nonviolence, duty, and truth. Gandhi spent three years in London as a law student, from 1888 to 1891 and then promptly returned to India with a new outlook based on his contact with the West.
After returning to India, Gandhi could have faded into obscurity as a small-town lawyer. This was not to be his fate, however, as he was invited to South Africa in 1893 to represent an India-based firm in a legal dispute. Here Gandhi realized the true potential for India, and developed a public persona and the self-confidence for his struggle ahead. Gandhi discovered severe discrimination by South African officials against Indian merchants and laborers through both humiliating displays and legislation. Gandhi sought to pressure white South Africans, English liberals, and Indian academics to help end such treatment. A major triumph in this campaign was the creation of a South African British Indian Committee in 1906. By 1914, Gandhi succeeded in having Muslim and Hindu marriages recognized and repealing a law requiring Indians to register if they wished to live in South Africa. During this time, Gandhi and his family adopted the simple dress of lower caste citizens to show empathy with the indentured servants.
Gandhi returned to Indian in 1915 where he would spend the rest of his life. With his return, Gandhi lost a reputation as an anglicized Indian and was given the title "Mahatma." His immediate goal was to show the British that the peasants were not loyal subjects; in the next five years, Gandhi championed various peasant groups through his goal of nonviolent rebellion through satyagraha. By 1922, Gandhi was arrested for sedition and sentenced to six years imprisonment.
Gandhi was released from prison in 1924. He continued his work promoting nonviolent civil disobedience and working with the Indian National Congress. In 1930, he found a focus for his campaign – the Salt Tax. The tax prohibited private manufacture of salt or possession of non-government salt, conditions which greatly harmed the poor of India. The British would take salt from salt-pans on the Indian coast and sell it for exorbitant prices for government income. On March 12, 1930, Gandhi began his 241 mile march to the sea, collecting followers along the way. He reached his goal on April 5 and picked up salt from the seashore, formally breaking the law and prompting similar acts across the nation.
In 1931 Gandhi met with the Indian viceroy to negotiate, followed by more meetings and discussions in London and India, including a seat at the Round Table Conference in 1930-1. By the mid-1930s, other Indian leaders came to the fore, such as Jawahartal Nehru. In 1934, nearly 70 years old, Gandhi suspended civil disobedience, resigned from Congress and devoted his time to village reform.
The Second World War led Gandhi to participate in nationalist politics once again, culminating in August 1942 in the 'Quit India' movement. This movement consisted of Gandhi's frustrated speeches coming close to endorsing violence as he became impatient with the slow movement of the nonviolence path. The Congress Party shortly passed a resolution demanding the British "quit India." This last attempt at satyagraha (nonviolent resistance) led to Gandhi's final imprisonment until May 1944. India's independence in 1947 was Gandhi's life goal; however its occurrence in bloodshed disappointed him. He was assassinated by a Hindu extremist 6 months later on January 30, 1948.
Gandhi's legacy lives on as a seeker of truth and nonviolent solutions to the world's problems. These words have motivated such great men as Martin Luther King, Jr. and Nelson Mandela to action: the "most important thing to remember is to curb anger, never do violence, and even to suffer violence done to us" ( Arnold 100).

Arnold, David, Gandhi.
Harlow, England: Pearson Education Limited, 2001.
series: Profiles in Power
Brown, Judith M., Gandhi Prisoner of Hope.
New Haven, Connecticut: Yale University Press, 1989.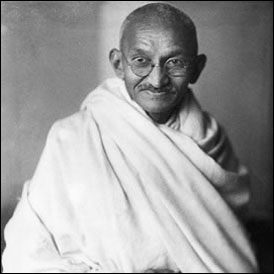 Links