S U S T A I N A B I L I T Y


Sustainable agriculture seeks to assure agricultural profitability by maximizing on-farm resources in ways that maintain or improve the productivity of land and water resources while protecting the environment. Sustainable strategies encourage the farmer to produce diversified value-added products through a mutually beneficial relationship with the local community.

•

Input Optimization

- family labor, intensive grazing systems, recycled nutrients, legume nitrogen, crop rotations, use of renewable solar energy, improved management of pests, soils and woodlands.

•

Diversification

- vary crops and livestock systems to lower economic risk from climate, pests, and market fluctuations.

•

Conservation of Natural Capital

- create economic value by maintaining the productivity of land and water resources while enhancing human health and the environment.

•

Capturing Value-Added

- form coops of local farmers and a collaborative relationship with the local community.

•

Community

- make urban communities more aware of the entire food production and distribution system.





Pennsylvania Agriculture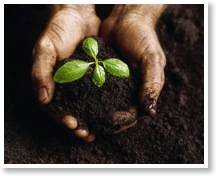 Agriculture is one of Pennsylvania's leading economic enterprises. Dairy is the state's largest agricultural segment, accumulating $1.6 billion of cash receipts from the milk and meat sold off of the dairy farms.


Trends in Pennsylvania's agriculture echo those of the rest of the United States and the world as agriculture becomes increasingly industrialized. There are fewer larger farms using more resources to produce food that goes to processing plants and for distribution on a global market.

In the three decades between 1964 and 1997, the number of farms in Pennsylvania declined 45% from 83,066 in 1964 to 45457 in 1997. The number of farms under 179 acres decreased 49% and the number of farms more than 500 acres increased by 51%.

The acres of harvested croplands decreased 11% while the number of farmers harvesting this land decreased 48%. The number of dairy farms decreased 75%.



Summer rain over farms near Mifflinburg (Union County), Pennsylvania.
(photograph by B. Hayes)