L I N K S
Pennsylvania Agriculture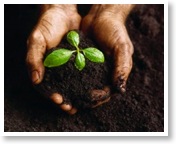 Agriculture is one of Pennsylvania's leading economic enterprises. Dairy is the state's largest agricultural segment, accumulating $1.6 billion of cash receipts from the milk and meat sold off of the dairy farms.


Trends in Pennsylvania's agriculture echo those of the rest of the United States and the world as agriculture becomes increasingly industrialized. There are fewer larger farms using more resources to produce food that goes to processing plants and for distribution on a global market.


›
Read more
...
The Susquehanna River and the Chesapeake Bay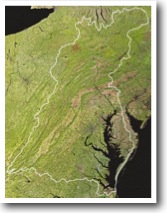 The Susquehanna River (originally "
Sasquesahanough
" on the 1612 map by John Smith) is approximately 444 miles (715 km) long and drains 27,500 square miles (71,225 km²), covering nearly half of the land area of Pennsylvania and portions of New York and Maryland. It flows into the northern end of the Chesapeake Bay at Havre de Grace, Maryland, providing half of the freshwater inflow for the bay. The Susquehanna receives sediment and pollution from stream channel erosion, agricultural runoff, urban and suburban storm water, raw or inadequately treated sewage, and abandoned mine drainage. The U.S. Environmental Protection Agency (EPA) has identified suspended sediment as the most critical pollutant to mitigate.

In 2003 the Susquehanna River contributed 21% of the sediment, 44% of the nitrogen, and 21% of the phosphorus flowing into the Chesapeake Bay. Pennsylvania may be subject to federal sanctions if it does not reduce its pollution by 2010. In 1997, the U.S. Environmental Protection Agency designated the Susquehanna as one of the American Heritage Rivers.


›
Read more
...