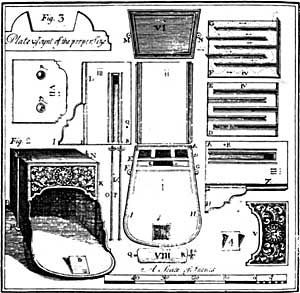 Plan for the Franklin Stove.
One of Franklin's inventions was the "Franklin Stove," a mid-room furnace to replace the inefficient heating of a fireplace. This cast-iron furnace would radiate heat from the middle of the room in all directions, and the iron walls even absorbed heat, providing heat to the room long after the fire went out. Franklin's design was flawed, however; the furnace lacked a chimney to draw fresh air through the inner chamber, and the fires shortly went out. Another inventor of early Philadelphia, David R. Rittenhouse, improved the design by adding an exhaust pipe and chimney.
---
Picture courtesy of ushistory.org
ushistory.org.
"Ben Franklin Picture Gallery," available from
http://ushistory.org/franklin/pictures/index.htm;
Internet; accessed 13 October 2004.
Massachusetts Institute of Technology.
"Inventor of the Week: Archive," available from
http://web.mit.edu/invent/iow/franklin.html;
Internet; accessed 13 October 2004.