Alfred
Aristotle
Charlemagne
Dante
Franklin
Hegel
Kant
Laplace
Lincoln
McKinley
Milton
Newton
Plato
Socrates
Virgil
Washington
John Milton
(1608-1674)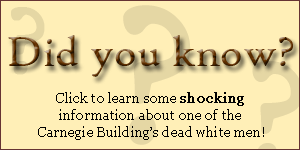 John Milton was born London in 1608 to a well-off family. His father, John, earned a living as a scrivener, or law writer, and his mother was the daughter of a merchant. The family owned a home in the country where his father taught him a love of music and art, and his mother instilled in him deep religious values. Milton's first teacher was his father, and at the age of seventeen, Milton entered Christ's College in Cambridge. Milton believed he was destined to be a minister in the church, although he studied classic works in Latin and Greek and political history. He also began to write poetry in English, Latin, and Italian.
Milton became disillusioned with church ritualism during college and gave up his plan to become a priest, moving back to his father's home with no profession. In the late 1630s Milton traveled France and Italy, meeting with great intellectual minds of his time. These famous thinkers include Galileo, whose telescope is mentioned in Paradise Lost. He returned to London in 1639 and established a school for a few relatives as students. He planned to write an epic based on Arthurian legends, but this topic was pushed aside as the British Civil War broke out. During the war period, Milton wrote several pamphlets on his support of the parliamentary cause, freedom of speech, and divorce.
Milton's life, as well as some of his ideas, were no doubt influenced by his three marriages. In 1642 he married Mary Powell, who was seventeen at the time. She left him after a few weeks because of their emotional incompatibility, but reconciled with him in 1645. They had three daughters and a son together before her death in 1652. His experience with Mary shaped his opinions on divorce, which led to his famous pamphlet concerning the subject. Four years after Mary's death, Milton married Katherine Woodcock. She died two years later after giving birth to a daughter who lived only a few months. In her memory, Milton composed his sonnet, "On His Deceased Wife."His third marriage with the much younger Elizabeth Munshill was apparently happy.
Because of his loyalty to the parliamentary cause, Milton was appointed foreign secretary. In 1651 Milton went totally blind, but continued on with his poetry and government work with the help of poet Andrew Marvell. Marvell spoke for Milton in Parliament, and his political opinions were very controversial. After the restoration of Charles II to the throne in 1660, Milton was punished for his support of Parliament by a short imprisonment. From the time of his third marriage in 1663 until his death on November 8, 1674, he lived in relative seclusion. He was buried beside his father in St.Giles Cripplegate. Sadly, it appears Milton's grave was desecrated when the church was undergoing repairs.
Milton's masterpiece, Paradise Lost, is considered one of the greatest poems in world literature. The theme of the Fall and expulsion from Eden replaced the Arthurian legends as a driving force, and his epic, in its twelve cantos, tells the story of the fall of Adam. Paradise Lost was originally issued in ten books in 1667, and in 12 books in the second edition of 1674. This work was followed by its companion, Paradise Regained, which tells of human salvation through Christ.
Pegasos - A Literature Related Research Site.
"John Milton," available from
http://www.kirjasto.sci.fi/jmilton.htm;
Internet; accessed 10 December 2004.

Microsoft® Encarta® Online Encyclopedia 2005
"Milton, John," available from
http://encarta.msn.com/encyclopedia_761556335/Milton_John.html;
Internet; accessed 27 September 2005