Alfred
Aristotle
Charlemagne
Dante
Franklin
Hegel
Kant
Laplace
Lincoln
McKinley
Milton
Newton
Plato
Socrates
Virgil
Washington
Jean-Paul Sartre
Jean-Paul Sartre was born on June 21, 1905 in Paris. After his father's death in 1906, his family went to live with his mother's parents where he voraciously read through the family library. After being home schooled as a young boy, Sartre entered school in 1915, at age 10, where he made his first friends, having been the only child at home. When Sartre's mother remarried in 1917 he felt betrayed, as he and his mother were treated almost as siblings in her parents' home. He said, "I broke with her in order not to suffer" (Gerassi 55).
He continued boarding school in Paris, where he developed close friendships, but he was cut off from family. Although a writer from a young age, Sartre switched his focus to philosophy by the end of his teenage schooling. All during school he was commended for his brilliance and began the École Normale Supérieure in August 1924. He stayed close to his friend from their teen years together, Paul Nizan, and continued studying philosophy although he found the curriculum somewhat lacking. At l'École, Sartre had his first serious love affair with a cousin by marriage, Simone-Camille Sans in 1925. Nizan married in 1926, but left l'École for a few months, unhappy with the French liberal arts education. Sartre graduated in 1929 after some setbacks, mostly because of his determination to pursue an original line in philosophy, contradicting his professors.
One of the biggest events in Sartre's life occurred in July 1929 when he met Simone de Beauvoir, who would become his lifelong companion. The two hit it off intellectually immediately, quickly becoming close and somewhat alienating Sartre's university friends. By August 1930, Simone had moved close to Sartre and the two were spending most of their time together. They were separated in 1931 by Simone's teaching position, but they remained committed, although open to other relationships. Sartre said, "…our relationship was necessary and, therefore, would not be affected by any contingent affairs" (Gerassi 98).
Sartre developed Communist sympathies with the world economic crisis in 1933, but he and Simone agreed that the proletarian struggle was not theirs to fight. By 1934, Sartre had written Nausea and was keeping abreast of the current emerging philosophers. Nausea was finally published in 1938 – a fictionalized account of Sartre's recent experiences. Simone encouraged him to focus on novels, not philosophy. His short stories in The Wall, published in 1939, gained a following. In September, Sartre was mobilized to active duty in the French army and was sent to Alsace, hoping the war would be short.
During 1940, Paul Nizan was killed and Sartre taken prisoner, although he was released in 1941, after which he returned to teaching. In 1945, Sartre flew to the United States as a journalist promoting the U.S. war effort in France, where he apparently fell in love with another woman. Their relationship hurt Simone, but he soon returned to her and Paris. The beginning of Roads to Freedom was published in October. The next year Sartre continued to lecture in New York City. Simone and Sartre separated for a few years, but reunited in 1950 in a trip to see the repression of sub-Saharan Africa.
1954 marked the beginning of a difficult period for Sartre, marked by ill health, fatigue, and overwork, which lasted until 1959. He also became increasing involved in various international peace movements. Simone and Sartre became dedicated to the plight of Algerians and communicated their stance within the USSR and France.
1960 saw an improvement in Sartre's health as well as the publication of his second major philosophical work, Critique of Dialectical Reason, aimed at understanding individuals as both unique and an expression of their time, drawing on psychology and sociology. In 1961, an assassination attempt was made on Sartre; a bomb was set off in the entrance to his apartment by a group opposed to his public support for freeing Algeria from French control.
In 1965, Sartre was offered the the Nobel Prize for literature, which he refused. He had always refused official honors, believing in the writer as a persuader through words, not institutions.
Sartre participated in the Russell Tribunal in 1967, a forum to examine international, especially American, war crimes. That December, Sartre's former love "Camille" died as a recluse. In January 1969, Sartre's mother also died of a heart attack and stroke. The next day, Sartre and Simone cleared out and gave away all her possessions within an hour.
By 1970 Sartre had revitalized his role as an intellectual "by putting himself directly in the service of the masses to achieve true universality" (Thompson 171). Sartre continued to be active in international affairs and protests throughout the seventies, although he suffered a slight stroke in 1971, after which he experienced continuing impairment in the left side of his brain. He continued to be plagued by minor illnesses aggravated by heavy drinking. By 1974 Sartre's declining health was forcing him to cut back on his commitments. In March 1980 he was hospitalized, and he died on April 15 with Simone by his side.
Sartre was a remarkably brilliant and driven man who made important contributions to literature and philosophy, as well as political activism. He presented his ideals of worldwide peace and equality on the international stage with great commitment. His relationship with Simone de Beauvoir is also known as one of history's beautiful love stories, as the two remained deeply committed until his death.
Gerassi, John. Jean-Paul Sartre: hated conscience of his century.
Chicago: The University of Chicago Press, 1989.
Thompson, Kenneth A. Sartre: life and works.
New York: Facts on File Publications, 1984.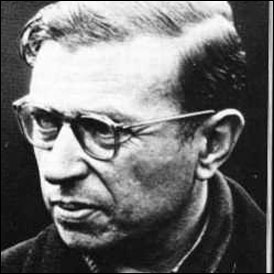 Links