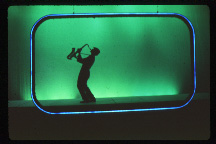 Angel City correspondence
From: Anthony Runfola &ltantho@earthlink.net&gt
Organization: Upstairs Theatre Company
Mime-Version: 1.0
To: grantg@bucknell.edu
Subject: Angel Citry
X-Url: http://www.bucknell.edu/departments/theatre_dance/Shepard/shepard.html
Hi! I am pleased to finally find a Shepard resource on the Web. I am currently preparing to direct a production of Angel City at the Upstairs Theatre Company in Tucson, AZ. Would you have any critical essays or reviews on file that I could puruse? Have you had any experience with this show? Any info would be helpful.
I will be sure to put a link to your page from the Upstairs Theatre page at http://www.indirect.com/www/upstairs. (Its still under construction, should have happen to visit.)
Thanks!
Anthony Runfola
Artistic Director
Upstairs Theatre Company

---
Date: Fri, 20 Sep 1996 11:36:28 +0400
To:asgoodman@amherst.edu
From:grantg@bucknell.edu (Gary Grant)
Subject:Re: just noticed the Shepard page

Dear Mr. Goodman:
Best wishes for your production of Angel City. It's one of my favorite plays and one with which I have enjoyed the most success. In 1983, I directed a production for the University of Puget Sound. We won our regional American College Theatre Festival competition and played at the Kennedy Center. I felt great about this success primarily because Marshall Mason who adjudicated the production validated what I see as an essential element of Shepard performance. Much of my research for the production came from my work with Shepard's notebooks and journals, the topic of my dissertation, and from this study, I conceived the play in terms of Shepard's comments on Japanese character in his introduction. That is, like Kabuki, the words, movement, lights, sound track etc operate on separate tracks, sometimes unifying performance events and sometimes sending performing events into a disjunctive chaos, very much like postmodern jazz which Shepard despises, by the way, but which seems an operative mode for Angel City nonetheless.
Please look at our subpage on Angel City under the publications icon, I have displayed a few photos there and will try to collect additional material.
As to Inacoma, you are right on the mark concerning the importance of this collective ensembe piece in Shepard use of jazz music. (For AC, I would suggest that you stay away from rock n' roll-wrong energy in my opinion). And you are in luck. Get to Boston University's Mugar Library Special Collections. I have been travelling to this collection for a decade and still find it fascinating. There you will find all of Shepard's notes on the creation process of Inacoma, texts, photos, reviews, etc. and perhaps. more importantly, you will find Shepard's production notes for his direction of Angel City at the Magic Theatre. They are enlightening. . . even Shepard's sketch of the set, as well as a series of character sketches and rough drafts on the development of the play. I have studied these notes intensely, if I can be of any help in gaining access or in interpretation, please don't hesitate to call me. 717-524-1235.
Again, best wishes.
Gary Grant
Gary Grant (grantg@bucknell.edu)
Department of Theatre and Dance.
Bucknell University
Lewisburg, PA 17837
Phone: (717) 524-1235, Fax: (717) 524- 3760
---
Back to Angel City.
Back to the bibliography.
Back to the Sam Shepard Web Site.