Bucknell Geology - Student Research 2010-2011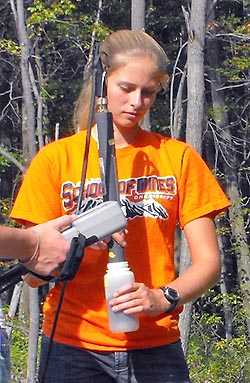 Rebekah Morris ('11) worked at several field sites in western Pennslvania this summer to better understand how to remove Manganese from Acid Mine Drainage (AMD) waters. Manganese is typically resistant to removal and is associated with an unpleasant taste in drinking water and can leave it's black deposit on food, laundry, coat the inside of pipes in public and private water systems, and has been found in toxic levels in aquatic animals. Many AMD sites in Pennsylvania discharge into the Susquehanna River drainage basin and Rebekah's study hopes to provide some valuable information to this poorly understood topic.
Rebekah and her advisor Dr. Carl Kirby have devised a collection system to be installed at her field sites where AMD water will precipitate Mn on limestone gravel (see second photo in sidebar at right). During her senior year she will bring these samples back to the lab and perform experiments to better understand what role microbes, pH, surface area and other factors might play in the removal of Manganese.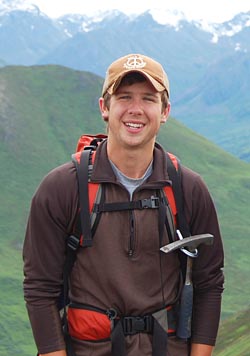 Cullen Kortyna ('11) has spent the last three summers in Alaska, performing field work (independant study projects) with his advisor, Dr. Jeff Trop, and a group of researchers from Purdue University (see photo of "Team Arkose" below).
This year, Cullen has turned his research into a Senior Thesis project geared towards a better understanding of what sediment sources contributed to a 2,000 meter thick sequence of fluvial and lacustrine strata called the Arkose Ridge Formation. Cullen is using U-Pb geochronology of zircon grains, and over 85 modal analyses from conglomerate and sandstone beds to constrain the sediment sources to this upper Paleocene-Eocene formation.
This year, Cullen is giving an oral presentation on his research at the National meeting of the Geological Society of America, in Denver, Colorado. An abstract of his presentation can be seen here.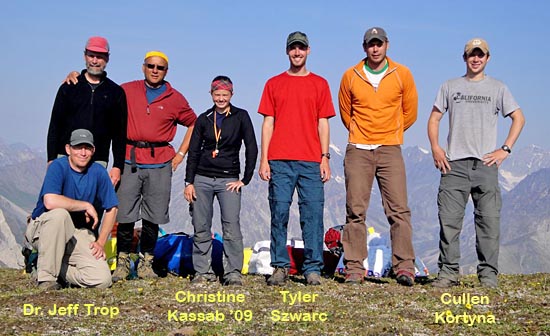 Team Arkose is a group of student and faculty researchers from Bucknell University and Purdue University. The photo above was taken in Box Canyon in the southern Talkeetna Mountains in Alaska. The Bucknell members of Team Arkose are listed, incuding Christine Kassab (BU '09) who is now a graduate student at Purdue.
Bucknell Geology Independent Student Research Projects, 2010-2011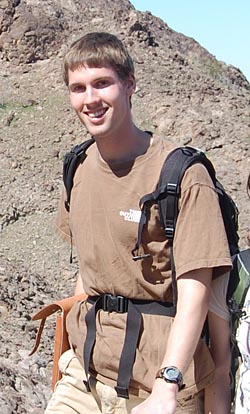 Tyler Szwarc ('11) is a Geology/Physics double major who spent part of his summer as a field assistant for several members of "Team Arkose" (see photo above) including Christine Kassab (BU '09). During that time, Tyler and his advisor, Dr. Jeff Trop formulated an idea for an Independant Research Project focused on the Castle Mountain Fault that runs between the Talkeetna and Chugach Mountains in southern Alaska. Tyler will be using detrital geochronology to evaluate the magnitude of right-lateral displacement of this fault since the Eocene Epoch (about 34 million years ago).
Tyler has been spending this fall crushing the sedimentary rock samples they collected in order to extract detrital zircon minerals. Later this year, Tyler will analyze these samples for their respective ages at the SHRIMP Lab at Stanford University.
Tyler has a passion for Astronomy, and was recently featured in the Summer 2010 issue of the Bucknell Magazine .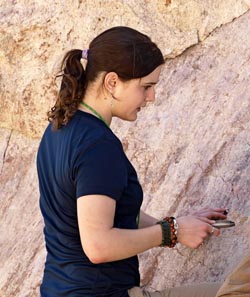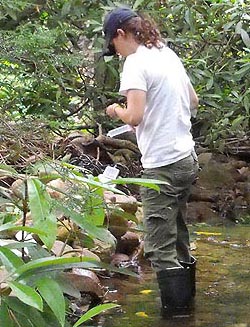 Erin Donaghy ('12) became interested in the health of the Buffalo Creek Watershed in central Pennsylvania after the students in her Geochemistry class collected and analyzed samples from the Buffalo Creek Acid Precipitation System, as part of a lab project. She says that "...the data we interpreted left many unanswered questions which drove me to pursue doing research on the system in order to try and answer them".
Like many streams in the northeastern U.S., the water of Buffalo Creek is acidic and can no longer be buffered and neutralized by natural alkaline materials found in the surrounding environment. In 2009 the non-profit Buffalo Creek Watershed Alliance installed an acid precipitation treatment system to remediate these effects. Erin's research is focused on the direct effects the treatment system is having on Buffalo Creek.
Erin has established monitoring sites in the upstream reaches (see photo in upper right), the treatment system itself, and downstream of the system. All sites are being monitired for dissolved oxygen, Al, Ca, Mg concentrations, alkalinity, temperature, pH and specific conductance. In addition, she is collecting macroinvertebrates and samples of algae to help clarify the effects of the treatment system and help quantify how much this system is helping the ecosystem and health of Buffalo Creek..
Erin and her advisor, Dr. Carl Kirby will be presenting her research at Bucknell's Kalman Research Symposium and will provide an in-depth report to the Buffalo Creek Watershed Alliance.