Bucknell | Find People | Site Index | Search | Calendar | Campus Map | Course Information | Prospective Students
BUCKNELL IN LONDON 2004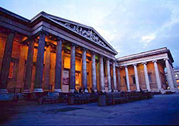 THE COURSES
Students in the London Semester take four credits. All are appropriate for students in all majors.


CORE COURSES
These half or full credit core courses will be taken by all students enrolled in the program.
Race and Empire - Watson & Lewis: (IREL 245 or POLS 2xx or SOC213) - 1 credit
The course explores the morphology of race and the dialectic of Empire. Students will study the intellectual and social construction of the meaning of race with emphasis on selected literature on the Enlightenment legacy and the Romanticist reaction to the Enlightenment on racial thinking. The course will address such issues as the adoption of measures to prevent the formation of linkages between workers at home and slaves and workers in the colonies and the transformation of racialized class differences at home into ways of forging unity against outsiders via nationalist ideology and other projects that reconfigured race relations. The course will examine theories of imperialism in conjunction with the emergence of nationalism and nationalist identities, and it will look at how racial thinking and racial consciousness have framed nationalist ideology in the making of the modern nation-state. Other important topics will include how states produce races, how they racialize their own social identities, and how state policies that conflate race, nation and identity contribute to the racialization of the state.

Architecture and Art in London (ART215: .5 or 1 credit) - Conner
This course provides a background and context through which to view changes in British art, architecture and design, as the society and economy moved from ancient to feudal/medieval, to modern. It will illustrate how technical, social, cultural, and political developments influenced by empire are reflected in the practice and content of the arts. Each class session begins with a historical background/overview briefing with selected slides followed by a walking tour of a museum, historical areas or nearby sites. Evaluation is through course participation, papers and examinations.

Theatre in London (THEA264: .5 or 1 credit) - Sullivan
All aspects of London theatre are integrated into this course including aspects of staging, designing sets, props, costumes, lighting and special effects, and acting in "backstage" visits to Shakespeare's Globe, the National Theatre production facilities, and the Museum of Theatre's costume and make-up shops. Classes will focus on contemporary as well as historic plays and playwrights including some that complement the both the theatre course and the semester focus. Students will see at least one play each week, (from the best of West End, National and "Off-West End" theatre), keep a theater journal of the plays attended, participate and lead class discussions. Evaluation is based on class participation, short essay examinations and a theatre project.
ELECTIVE COURSES (chose one or two)
• Seminar: International Relations: Caribbean (IREL 230/POLS 286) – Watson

This course, International Relations: Caribbean situates the Caribbean in the global arena, combining historical and contemporary themes from international relations (IR) and international political economy (IPE), with attention to theoretical and empirical issues and problems. The main topics include colonialism, imperialism, decolonization, nation-state sovereignty, foreign policy formulation and decision-making, regionalization, security issues, contemporary globalization, drugs, migration, tourism, human rights problems, gender and identity issues, and other selected topics. The course approaches the Caribbean as a diverse region in terms of geography, history, population, culture, political systems, the role of extra-regional powers, and international linkages through participation in the global arena. The Caribbean has played important roles in helping to shape modern world events. The Caribbean is a very modern region that was created for modern production in ways that connected the New World to Europe, Africa, and Asia.


• Globalization, Technology and Cultural Change (SOC 311) - Lewis

This course has as its main objective the exploration of the process of globalization and of global restructuring. The process of globalization will be examined in its economic, political, cultural and social manifestations. Part of that process is being fueled by innovations in technology. The philosophical and ideological underpinnings of this technological revolution will be a major focus of this course. The course will therefore be examining the extent to which the technological revolution is facilitating the process of globalization. SO 311 will also aim at assessing the contribution of the cultural dimension to the process of global change. In short, what is the impact of this process on the everyday lives of people, the music they listen to, the food they eat and the clothes they wear. This course will also consider the movement of people globally and the way people become deterritorialized and re-territorialized by and through globalization
Independent Study/Internship (Various Departments) (Various Departments) Watson; Lewis; and others (SOC 325, IR 360)
o Undertaking an independent study course while participating in this London Semester is a possibility, including independent fieldwork in sociology or international relations and in interdisciplinary areas.
o Students who wish to explore the possibility of completing a meaningful internship during the London Semester may find one that provides learning experiences worthy of course credit. Arrangements must be made before August 2004.


---

Return to the Bucknell in London Home Page

Bucknell | Find People | Site Index | Search | Calendar | Campus Map |Course Information | Prospective Students